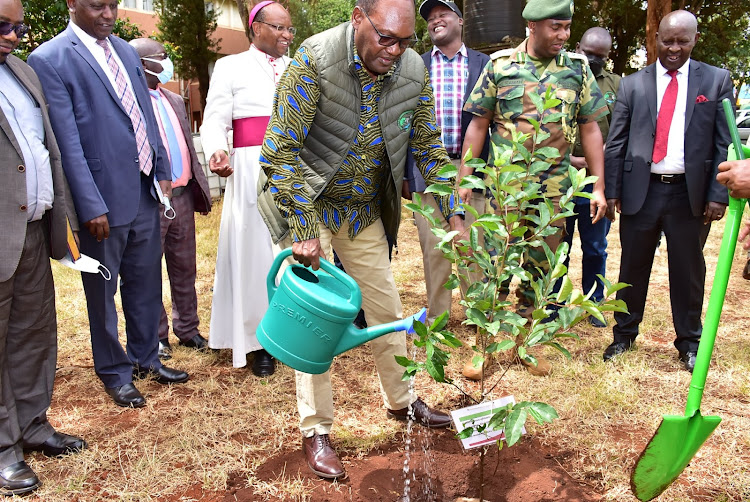 Nyeri county has launched a programme to plant 10 million trees.
'Wangari Maathai 10 million tree challenge' was launched on Monday by Environment and Forestry PS Chris Kiptoo. If successful, it will increase Nyeri's forest cover from the current 38 to 42 per cent.
"The programme has been named in honour of the Nobel Peace Prize winner, the late Prof Wangari Maathai, who hailed from Nyeri county," Governor Mutahi Kahiga said.
It is being undertaken in collaboration with the Catholic Archdiocese of Nyeri, Ministry of Education, Kenya Forest Service, Kenya Forest Research Institute and the county commissioner's office.
This initiative is aimed at raising seedlings in 230 secondary schools which will later be grown in schools and others distributed to the surrounding communities.
Already, 2.6 tonnes of tree seeds have been released for distribution to 95 secondary schools engaged in the first phase in the eight subcounties.
The target is to grow five million tree seedlings in the first phase.
"The selected schools are required to raise 20,000 tree seedlings each. The tree seedlings will be planted in the schools and others will be issued to farmers in support of on-farm forestry," Kahiga said.
The project will contribute greatly in environmental conservation in an effort to mitigate the adverse effects of climate change.
Kahiga said his government bought potting papers and will also boost the programme through distribution of fruit tree seedlings to the schools.
The governor asked school principals to ensure the programme is a success.
The programme will be coordinated at the subcounty level through the environmental officers and foresters.
All the tree seeds needed have been provided by Kefri while KFS is raising one million tree seedlings in support of the programme.
Kenya Electricity Generating Company also provided Sh300,000 worth potting papers.
Those present during the launch included the chief conservator of forests Julius Kamau, Archbishop Anthony Muheria and Kefri deputy director Jane Njuguna.
Others were National Environment Complaints Committee CEO John Chumo and National Environment Trust Fund  CEO Samson Toniok.
The programme is part of the implementation of the national tree-planting campaign meant to increase trees to the required 10 per cent.
Kiptoo said climate change is a reality and that action is needed from every Kenyan through massive tree growing to reverse the situation and save mankind.
The Education ministry committed to support the initiative by producing 500 million seedlings in schools, colleges and TVET institutions.
Muheria said the Catholic Archdiocese of Nyeri will use its network to mobiliSe schools and stakeholders to initiate seedling production in primary and secondary schools under the direction of technical experts drawn from KFS and Kefri.
Kamau said Nyeri has the highest tree cover in the country and that it has the potential to raise it further by leveraging on farmlands.
He said the KFS is committed to support the drive by producing five million tree seedlings to support the programme.